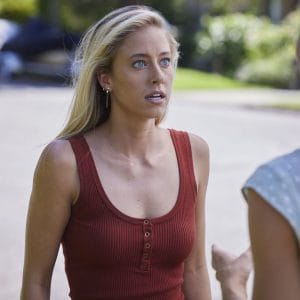 Jacqui Purvis, who plays Felicity Newman in the Australian serial Home and Away, has discussed how she would like her character to exit the show.
Purvis has said that if she were to leave, she would like Felicity to have a "very dramatic death," even though there hasn't been any conversation about her leaving.
The actress admitted to Yahoo Lifestyle that she would "wish to be killed off." "I want a really dramatic death, like a really, violent, horrible [death] where everyone is crying," the speaker said.
Purvis said, when asked if she had any plans to leave Summer Bay, "Who knows? You receive this role and this opportunity, and as an actor, it's fantastic.
"You act every day, which is what every actor wants. Additionally, it's extremely uncommon to work consistently in this field.
But she continued, "I have no idea if I'm going to remain on; we'll have to see how everyone feels in the future."
Sam Frost, a former star of Home and Away, recently talked about whether she would ever go back to the Bay.
Jasmine Delaney was played by Frost for four years on the soap opera before she left in June, though she has already hinted that she may return in the future.
She added: "I do miss the team a lot – the crew was fantastic and I laughed a lot while I worked there so it was a lot of fun. Maybe Jazzy will return one day and cause some drama, run the beach a few times, do all the fun things. Therefore, I'm not sure, maybe someday.