Ada Nicodemou, who starred in Home and Away, provided some insight into the production of the dramatic car collision sequence in Monday's season-opening episode.
The well-known actress shared a clip of how she and James Stewart had to simulate the effect of a collision when the automobile remained completely still.
In the footage, Stewart and Nicodemou are seen sitting in the car in total stillness before they abruptly start moving around.
Stewart's head lands on the steering wheel as Stewart and Nicodemou both jerk backwards and forwards while simultaneously flailing their arms.
Nicodemou slumps back against the passenger seat, her head resting against the seat.
Before both actors start laughing, there is a brief pause of silence.
She captioned the video, "The funniest and craziest thing I've ever had to do," and included two crying-laughing emojis.
One supporter made a joke, "Looks like you're doing the Mexican wave!"
Another person remarked, "Watched it 20 times for the laugh!
The actress posted stunning images and video clips of the creation of the crash scene in separate posts.
I'm not sure who watched last night's programme or what you all thought. I adored it!" she exclaimed.
"Such pride in our work and the entertainment we produce.
"Our team has amazing talent!
Some #bts from the show are here.
In order to make it appear as though she had been in a vehicle accident, Nicodemou displayed photos of the makeup job that had been done.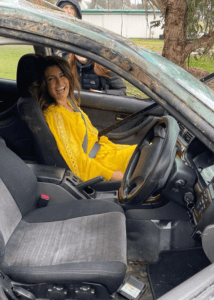 She is portrayed in other scenes as being bandaged up or laying in an ambulance's rear seat.
One fan said, "You guys did a terrific job. It looked very real and quite scary."
Another person remarked, "It was truly wonderful, and the way the actual automobile was flipping around and over, and the actors' actions were incredible.
"We were astounded by the crash scene's quality! Well done crew, a lot of work put into that one," chimed in a second.
Leah, played by Nicodemou, sustains severe injuries in the incident.
Such a compelling episode. You make a fantastic actress. One fan pleaded, "Don't leave us!
"Can't do that to us, Leah better not die!" another wrote.
One reader was more concerned about the devastation of the lovely yellow dress she was wearing in the scene than the demise of her character Leah.
Not that lovely Witchery garment, the admirer wrote.
Another fan of Home and Away was obviously a little traumatised by the intense episode.
They jokingly said, "Would have been lovely to just have a normal loving wedding."