She has more than 20 years of experience in the entertainment business.
But 47-year-old Erika Heynatz hasn't changed much since her first screen appearance.
In a stylish $649 dress from Australian label Oroton, the Home and Away actress flaunted her youthful appearance as she arrived at the Art Gallery of New South Wales' new building opening night on Wednesday.
She wore her blonde hair long and loose and created a cinched silhouette by pairing the silk retro-inspired print with a contrasting polka dot tie belt.
The actress accessorised with Tiffany & Co. earrings and added a splash of colour with a pair of bright red flats.
With a natural makeup look that included a creamy foundation, a soft pink lip, and thick black mascara, the mother of one emphasised her youthful features.
The model embraced event coordinator Chrissy McMinn, who looked chic in a grey suit, to show her support for artists.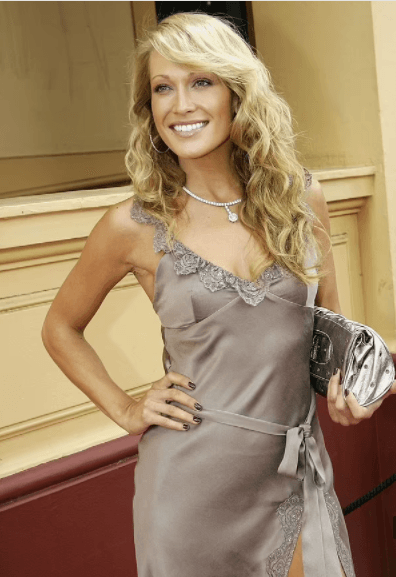 Tim Ross, a radio host who attended the event, dressed casually in a blue shirt and a white T-shirt, and Krew Boylan, an actress, were also present.
Krew opted for all-black attire, finishing the look with a blazer, a leather skirt, and no shirt.
Erika previously disclosed that she exercises on a reformer and while running.
The blonde bombshell previously admitted to Mamamia that she loves to pull her hair back into a ponytail for an instant "facelift." She is best known for hosting Australia's Next Top Model.
"My go-to look is a slick ponytail and a quick hairbrush." When your eyes are protruding from your head, it's amazing how it can give you a facelift,' she told the publication.
The single mother also divulged some of her beauty and self-care tips, claiming that she regularly gives herself a facial massage at night to "release jaw and forehead tension."
She claimed that the Elizabeth Arden Peel Pads ($35) are her go-to product for a "budget-friendly facial in a jar."
She starts each day with hot water and lemon juice and regularly drinks fresh vegetable juice, which gives her a glow from the inside out.