Alfie Moon will return to Walford in significant scenes as Eastenders announces Shane Richie's return, which is big news for #Kalfie fans.
There doesn't seem to be a better moment to prepare for a confrontation than right now, especially with a wedding between Kat and Phil on the horizon.
Alfie's final appearance on television occurred in January 2019, when he left the square after a confrontation with Phil Mitchell (Steve McFadden). When Alfie stole money from the notoriously violent Mitchell brother, the two developed a strong animosity toward one another.
In particular, his ex-wife Kat Slater (Jessie Wallace), who dumped him in 2018 after learning he was the father of her cousin Hayley's (Katie Jarvis) child, will be upset by his return to the neighbourhood.
With his cheeky and endearing personality, Alfie quickly won the hearts of viewers upon making his debut in 2002.
Over the past 20 years, he has been at the centre of several dramatic plots, and in 2017, he even had a role in his own BBC spin-off series, Kat and Alfie: Redwater.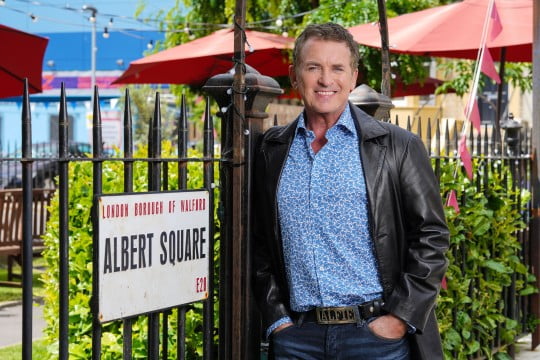 It's an absolute honour and privilege to be asked back to my TV home of Albert Square, said Shane Richie of his return to Eastenders.
I'm eager to reconnect with some former cast members and make new friends.
Chris Clenshaw, the new executive producer, played a key role in pushing for the revival of Alfie Moon and some fantastic storylines. who am I to object, anyway? I am impatient.
Showrunner Chris expressed his joy, saying, "Welcoming Shane Richie back to Walford is an absolute pleasure. He created one of the most iconic, lovable, and most memorable characters in soap opera.
There have been many events since Alfie left the Square, but wherever his floral shirts go, you can count on laughter, games, and the occasional porky-pie. We are overjoyed to welcome him home.
Although it is yet unclear what brought him back to the square, there is still the possibility for fireworks given that Kat and Phil are getting married after being engaged back in February 2022.
Alfie will return to Walford this fall, but viewers should remain watching in the coming days as EastEnders has hinted that more information may come to light.