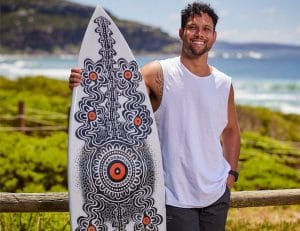 Mali Hudson, a newbie, was introduced in the most recent Australian episode of Home and Away.
The long-running soap opera said last month that Kyle Shilling had joined the cast in the character of Mali, who would have a connection to a devoted fan.
The episode airing on Channel 7 in Australia on Wednesday, January 11, when the programme returned from its holiday break, confirmed that Kyle is a friend and professional contact of Dean Thompson.
Dean introduced Mali to his business partner Ziggy Astoni when Mali showed up in the Bay. Mali, who creates and constructs the surfboards at Dean's store, turns out to be a surfboard shaper.
One of the first Summer Bay locals to introduce himself was John Palmer, who asked Mali if he'd be interested in joining the surf lifesaving team. Mali voiced his scepticism due to his insufficient proximity to Summer Bay.
Mali's presence may have had a purpose, Dean and Ziggy realised when they spoke with him further at Salt. Mali first refrained from informing them of the situation nonetheless.
Kyle, a new cast member, is a member of the Bundjalung Nation's Widjabul clan. While creating plans for his character Mali, Home and Away executives consulted with an Aboriginal script consultant.
Kyle just said to Perth Now: "I believe I would have been more motivated as a young person to want to better myself and explore acting if I had seen someone similar to me on a big TV show when I was a child.
"Because we are generally categorised as athletes among Indigenous people, I never considered taking another path. It has a major impact when you feel like you have been subject to stereotypes your entire life.
Looking back, I realise that if I had seen someone like Mali Hudson on such a popular series when I was 10 years old, I would have wanted to be him.
In March, Home and Away viewers in the UK will get to see Mali's first scenes.