Lives are on the line on the upcoming episode of Home and Away in the UK after Tane and Felicity's wedding day ends in tragedy. Will everyone survive?
Next week, the 2023 season premiere of Home and Away practically crashes onto Channel 5, as Tane (Ethan Browne) and Felicity's (Jacqui Purvis) wedding day becomes their worst nightmare.
As she and bridesmaid Eden (Stephanie Panozzo) jumped into her father's old ute to make their way to the ceremony, viewers will have already watched Flick get over her last-minute worries about committing to Tane.
They were unaware that Lloyd (Oliver Ackland), a member of the bikie group who had a bounty on Cash's head, had tampered with the brake lines.
When Flick started to sway, Cash was supposed to be the one to drive his sister to the wedding. Nevertheless, Cash continued while Eden tried to pacify Flick.
When the 2022 season came to an end, Eden and Flick were travelling down a country road without knowing what would happen to them.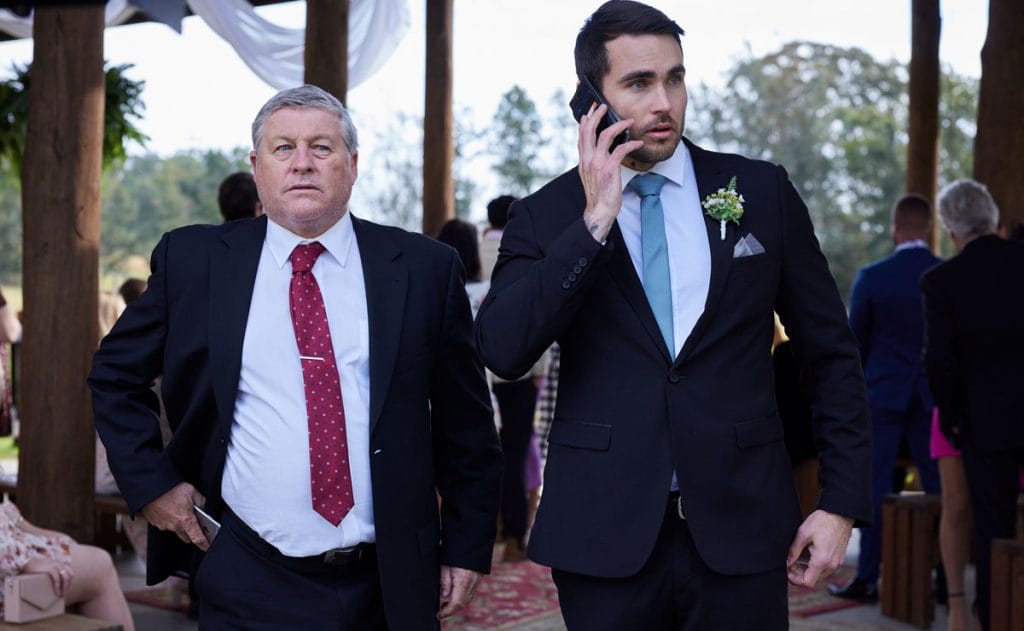 When the action resumes, Cash and his foster father Gary (Peter Phelps) are growing more anxious as they wait for any updates and hope that Eden will have been able to convince Flick.
Cash tries to call the girls, but the music drowns out the phone.
Cash explains to Nikau (Kawakawa Fox-Reo) that there has been a minor wardrobe malfunction in order to buy them some time as Tane is also starting to become agitated.
After learning of a mishap with the wedding cake Leah baked, Leah (Ada Nicodemou) and Justin (James Stewart) are hurriedly returning to the bay.
Leah had been contacted by Marilyn (Emily Symons), who had informed her that while the plain white cake was being kept in the restaurant fridge, some beetroot juice had accidentally spilled over it. We don't know what else might be an omen if that!
While driving, Flick eventually notices Cash has tried to phone, but is quickly sidetracked by Eden veering dangerously close to the car in front.
Eden states that she is trying her hardest to use the brakes, but nothing is happening as she urges her to slow down.
Eden finds herself on a collision course with none other than Justin and Leah as she swerves onto the opposite side of the road to avoid the camper van.
Leah and Justin brace themselves as the car is blasted into the air after Justin is forced to swerve off the road.
The vehicle performs several barrel rolls in the air (and a few more just for good measure…) before crashing into a metal fence.
When the ute rushes across the grass as well, Eden battles to maintain control of it. It crashes through a wall before hitting a petrol pump in the centre of a service station, where it finally comes to a rest.
The other guests and Mackenzie (Emily Weir) back at the farm are starting to wonder where the bride is as well.
Gary and Cash understand they can't keep delaying Tane any longer because it is now abundantly evident that Flick will not be arriving.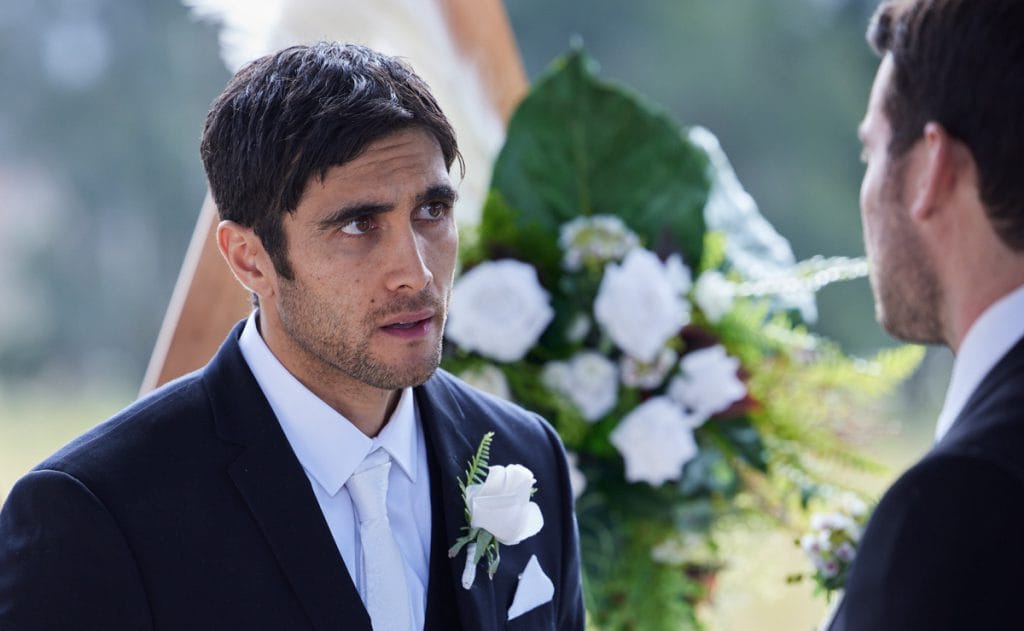 Justin awakens at the scene of the accident and discovers Leah in distress. He looks down and is startled to see that she has a metal post impaled in her abdomen. While quickly dialling 000, he tries to console her.
Flick is covered in blood inside the ute, but other than the fact that her legs are stuck, she appears to be okay. Eden, though, is slumped over the wheel and unresponsive.
As the emergency services arrive, Rose (Kirsty Marillier) and Xander (Luke Van Os) head to the ute while Paramedic Carla (Jennifer Rani) attends to Leah.
Rose warns them to be extra cautious until the fire department arrives despite Xander's assurance that they will be rescued as soon as possible given the proximity of the petrol station.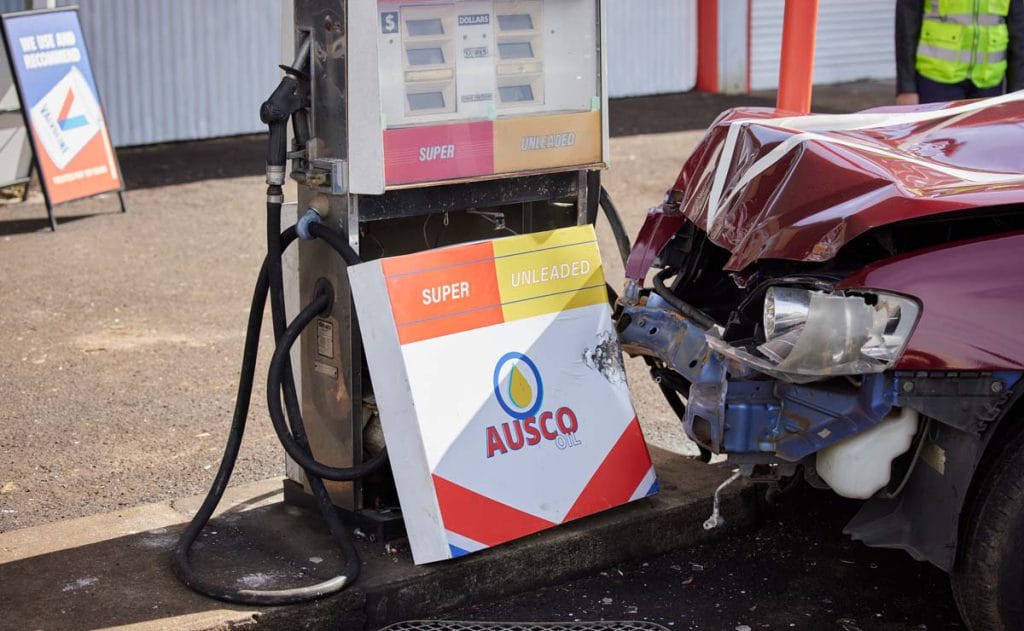 Cash and Gary get a call from Rose notifying them about the accident as Tane begins to reluctantly inform his guests that the wedding is cancelled.
The three dash to the fuel station, where they are startled by what they see there.
It's time to try to extricate Eden from the crash, says Xander's coworker Jethro (Dean Kyrwood), as there are no signs of any petrol leaks. He informs Rose that a manufacturing explosion is engulfing the nearby firefighters.
Tane apologises to Flick and assures him that she was really wanting to go to the farm to get married to him as everyone gets to work building Eden.
A few metres away, Justin stares in disbelief as the crew carefully cuts Leah free from the vehicle. He claims to Rose that the ute suddenly appeared on their side of the road.
Gary observes that there doesn't appear to be any evidence of the ute attempting to slow down at the time of the accident, which would only make sense if the brakes had failed, when Rose discusses the accident with Cash and Gary.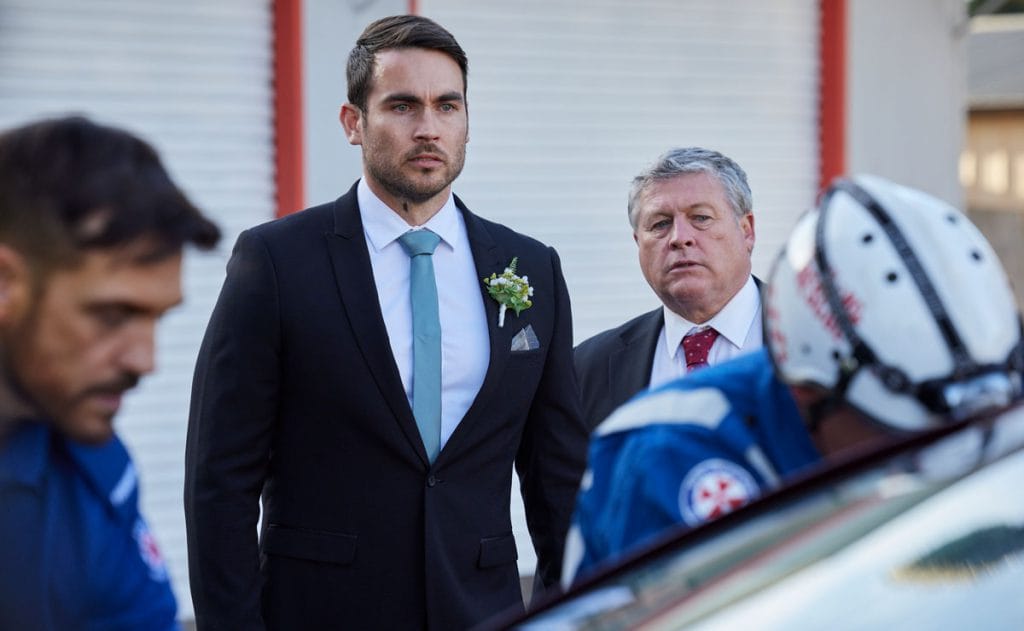 Eden begins to deteriorate quickly and experiences a heart arrest as the team finally succeeds in getting her out of the vehicle. As the paramedics stabilise Eden and rush her into the ambulance, Cash watches in terror as they conduct chest compressions. He then turns to Flick, unsure of what to do.
Cash was discussing with Gary how he would let Eden know how he genuinely feels about her just an hour or so ago. Flick, who is aware of Cash's thoughts, convinces him to follow Eden because she is safe and has Tane with her.
Carla informs Rose and Gary that Flick has been confined for a longer period of time than they'd like after they see her setting up some equipment.
She is currently in danger due to the compression injury to her legs, and once the pressure has been relieved, there is a chance that toxins will be released into her system and cause her heart to stop.
While working on Felicity, the crew is interrupted by Jethro's odour. He looks around and discovers that the petrol tank of the ute is suddenly dripping with fuel.
Everyone must leave while they wait for the fire department since any spark from the rescue tools could ignite the vehicle!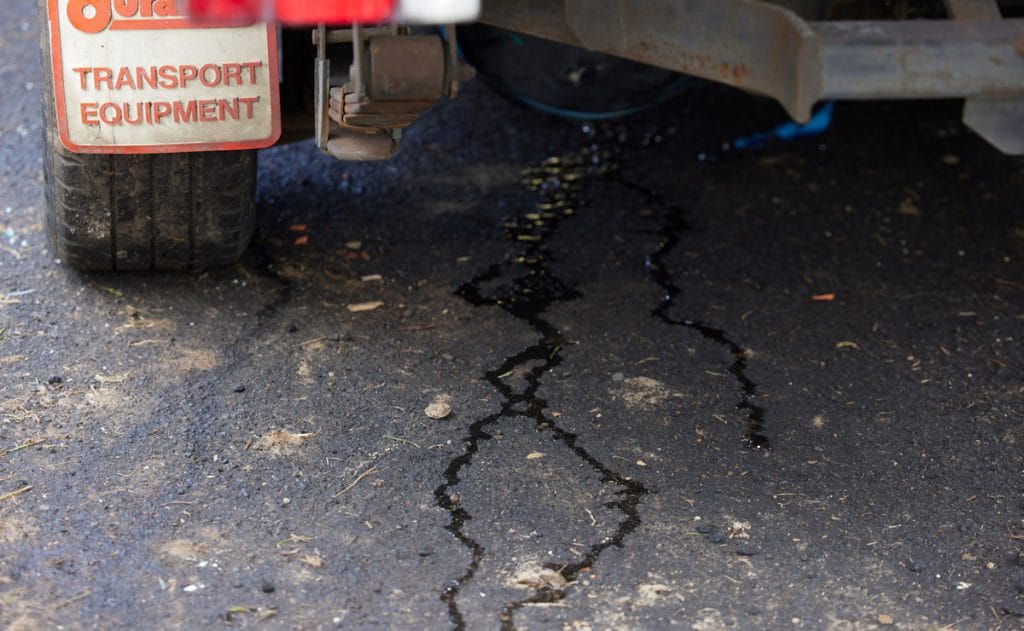 Tane tries to return to Flick with all of his might, but Jethro and Rose stop him. Despite her best efforts, Flick eventually loses her composure under the pressure.
Everyone implores Flick to stay still as she desperately tries to escape the car by slamming the door as hard as she can.
The automobile suddenly bursts into flames due to a stray spark!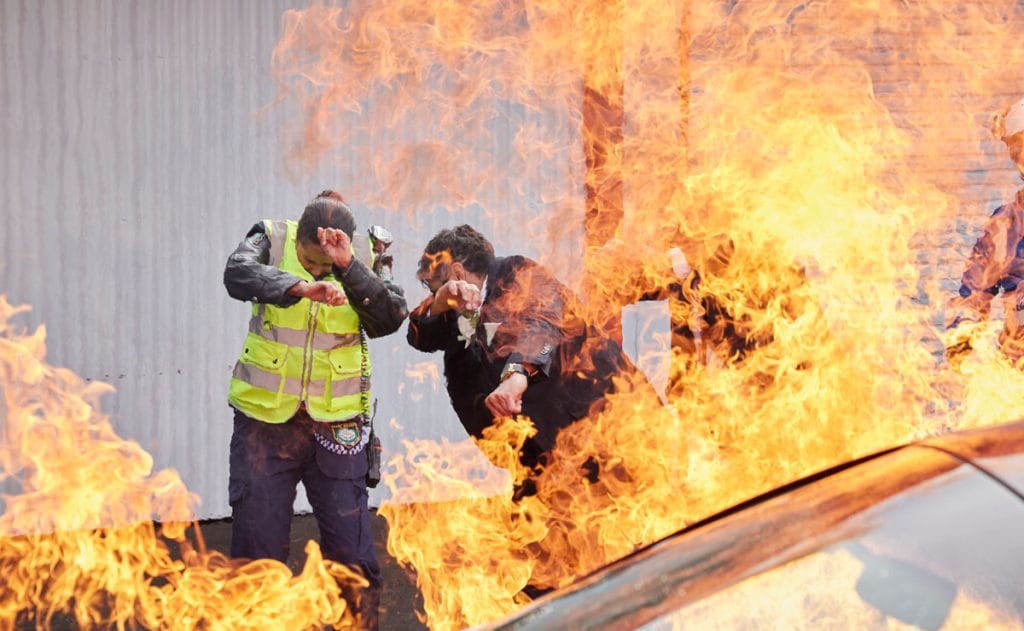 Tane responds to Felicity's cries for help by switching into action man mode and braving the flames to try to save Flick while covering his head with his jacket.
Tane uses all of his might to pry open the door, but the fact that Flick's legs are still caught remains an issue.
Tane resists giving up and eventually succeeds in releasing her and carrying her to safety despite her requests for him to abandon her.
Will Tane and Flick be okay when the paramedics rush to examine them?
Leah and Eden have both been taken directly into surgery at the hospital.
Leah will be okay, Justin learns soon, but not before a frazzled Cash confronts him about the ute's brakes. After the ute had been abandoned on the farm for more than sixteen years, Justin was in charge of getting it back on the road. It's highly likely that Justin was at fault if the brakes failed.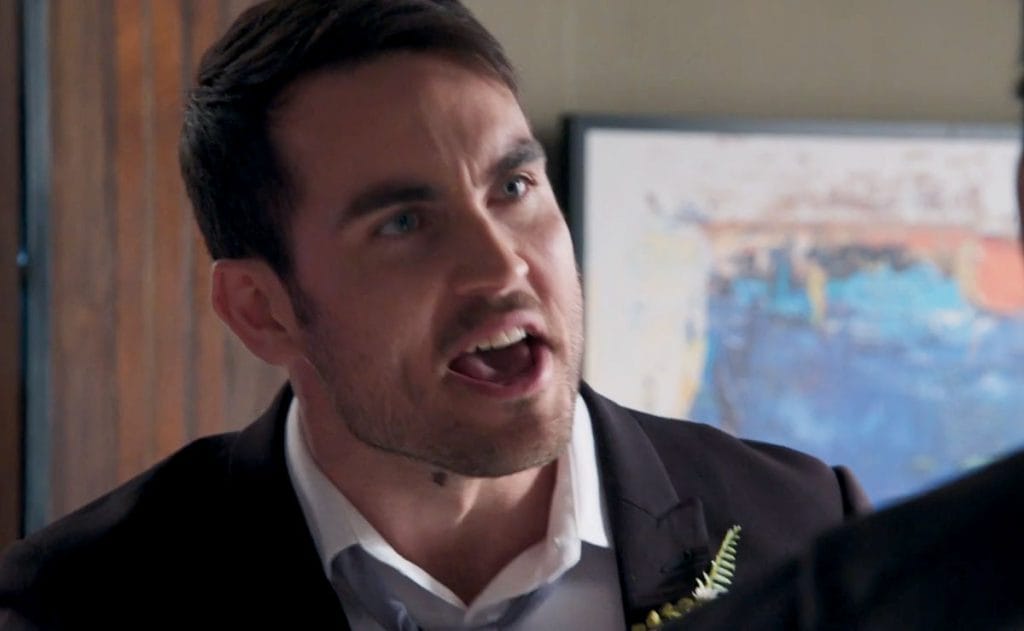 Little do they know that the real culprit, Lloyd, is watching nearby and relaying to the bikers that Cash is still alive and well as Justin struggles to digest the news…
When Cash receives an update on Eden, his day takes a turn for the worst. Even though Eden has recovered from surgery, she is still not awake. Dr. Patel (Karen Pang) informs Cash that this is because Eden was oxygen-deprived for a while and has some swelling on her brain.
Cash must be ready for the potential that Eden won't wake up while Dr. Patel waits for the brain to mend itself.