The popular Aussie star plays Ruth 'Roo' Stewart on the soap.
As Ruth "Roo" Stewart, the daughter of Alf Stewart, Georgie Parker originally joined the cast of Home and Away in 2010, taking Justine Clarke's place. Although the star is regarded as a member of the main cast, she occasionally travels away from Summer Bay.
The reason for her absences is frequently given by the writers of the scripts, with Georgie's character occasionally travelling on holiday or seeing her mother, Martha Stewart in Merimbula. This week, the actress admits openly to Yahoo Lifestyle that she is now taking a vacation from the soap opera.
Since Home and Away shoots five months in advance, viewers should anticipate Georgie's character to vanish in the month of August. The celebrity isn't really gone, though; for the next seven weeks, she'll be appearing on stage in the David Williamson play Rhinestone Rex and Miss Monica.
The 58-year-old actress is adamant about her gratitude to the producers for giving her enough time off each year to return to the stage.
"I've been fortunate that I kind of put it out there — if it's going to be long term, that I need time out for plays," she says of her involvement in TV shows like Home and Away or other ones. "Channel Seven has always been quite accommodating when I've asked for [time off] and done that. I simply have it included in my contract.
The Australian actress claims that because the show "revolve[s] around the younger cast members," it is simple to write her character out.
I'm fortunate in that regard, she continues, because taking a vacation from the show doesn't cause any stories to split in half.
Georgie spills about her newest project
The recipient of two Gold Logie awards has a long list of theatrical credits and a productive collaboration with Sydney's Ensemble Theatre. She and Glenn Hazeldine co-starred in Rhinestone Rex and Miss Monica 13 years ago, but she says viewers should anticipate a new spin on the Mark Kilmurry-directed show.
The romantic comedy's director has changed since it was last performed, and the veteran theatre players are likewise approaching the source material from a different angle.
"Now we're 13 years older, the entire play has a really new resonance since things have various meanings as you get older…
The comedy strikes in a unique way, she claims. It has developed into a highly engaging and entertaining volatile play where two utterly mismatched individuals manage to coexist.
Even while the former All Saints actress loves working on TV shows, she acknowledges that there is something unique about returning to her theatrical beginnings.
"Because you begin at the beginning of the story and end at the end, it's the most natural medium for an actor. I adore the connection with the audience, and it fits my energy levels," she says.
Since I first started in theatre, I have always loved the immediate nature of it.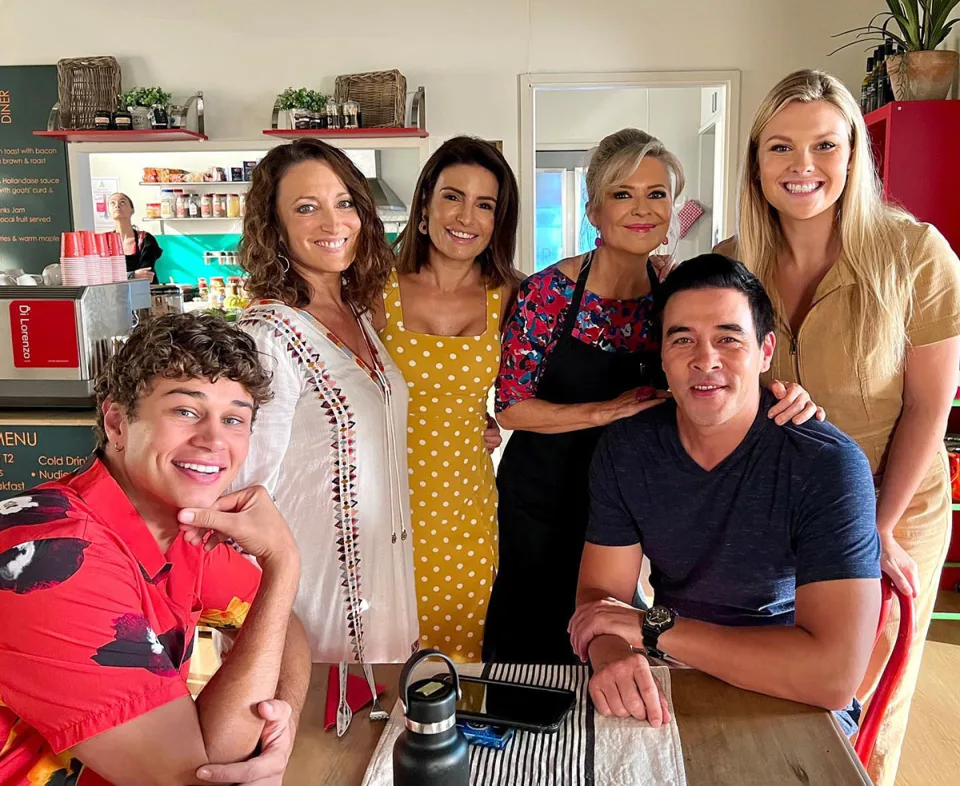 'Wouldn't that be fun?': Georgie teases theatre collaboration with co-star
Many former members of the Home and Away cast are still active in the theatre. For example, Oscar Maguire's Jake Speer recently spoke with Yahoo Lifestyle about his upcoming play, and Rose Delaney's Kirsty Marillier wrote an original play called Orange Thrower, which had its world premiere at Griffin Theatre Company last year.
Georgie acknowledges that she has discussed performing on stage with James "Jimmy" Stewart, who plays Justin Morgan, on occasion.
If Jimmy wanted to do something, I would definitely work with him. Wouldn't that be enjoyable? She ponders. I discuss it a little with Jimmy."