Spoilers for UK viewers of Home and Away are below.
Next week on UK television, Mackenzie Booth from Home and Away promises to make a significant shift at her company.
Following the unexpected passing of a patron at her restaurant, Salt, Mackenzie is forced to reevaluate her priorities.
For a date with Summer Bay newcomer Stacey, Xander Delaney travels to Salt in the episodes airing on Channel 5 the following week.
Even though Xander is a little hesitant, it doesn't take long for them to start getting along.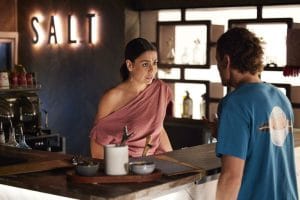 As the two are flirting, a fellow customer collapses, drawing their attention away. Mackenzie and her crew believed the man to be intoxicated, but it is now evident that he was dealing with a significant medical condition.
Xander immediately shifts into paramedic gear and runs over to assist.
As Mackenzie watches the incident, she becomes shocked. She is stunned and immobile, and all she can do is watch helplessly as Xander tries to assist the man.
Mackenzie later regrets not acting more quickly during the terrifying situation. She tries to atone by bringing flowers to the hospital, but she is shocked to learn that the man is now unconscious in the intensive care unit.
Mackenzie continues to be hard on herself and makes a commitment to first aid as a key priority. She intends to ensure her own thorough training as well as that of her colleagues.
When Mackenzie receives yet another terrible report confirming the man's passing, things only grow worse for her.
Felicity Newman understands Mackenzie as she persists with her first aid recommendations. It's clear that Mackenzie continues to put the blame for everything on herself.
Nikau Parata, the top lifeguard at Summer Bay, overhears the exchange and intervenes by offering Mackenzie some helpful advise on how to handle life-or-death circumstances like this.
Mackenzie is told by Nikau not to be so hard on herself. Although Mackenzie is grateful for these encouraging words, she is still determined to complete her first aid training.