Shane Withington, who plays John Palmer on the serial opera Home and Away, has just dropped some major spoilers. The 64-year-old actor has hinted that this year won't be easy for his character and implies that Lynne McGranger (Irene Roberts) is involved.
In an interview for his Friday Welcome To The Bay podcast with Lucas Buck and guest Tori, Shane revealed the specifics. Shane unintentionally disclosed some information when the group was debating fan inquiries.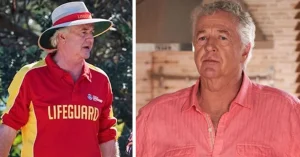 I just realised I'm coated in fake blood from the shoot, he cried. He apologised for "derailing" the discussion before revealing that he had just captured a "catastrophe" on location.
"Today is a big day. I just looked at myself, and there is a lot of [blood]. I just had to take a shower because I was covered in detritus from a catastrophe," he said.
He went on to remark that Lynne's character is a part of this plot, referring to her as "a doll" and expressing his "adoration" for his co-star. Due to his contract, he was unable to say anything else, although he teased that it had been a "big day" and "loads of fun."
Fans should anticipate seeing the "disaster" scenario on Home and Away in July of this year because the show shoots about five months in advance.
Later on in the episode, Shane talked about a significant plot development involving Kyle Shilling, a newbie who plays Mali Hudson, and him.
"There's a nice jealousy moment where John gets really envious, but I can't really say anything about it…
Mali, the new character, is a handsome young man.
Playing it was a tremendous delight.
The fans were ecstatic by Shane's suggestions, and many of them tried to predict what might be in store for John this year.
"I'm speculating that Irene might cause the diner kitchen to blow up. And as he drags her to safety, John gets her blood on him," someone said.
Another person chimed in, "I'm thinking he'll hook up with Dean's mother."
A third person wrote, "John dies," before stating he was joking.