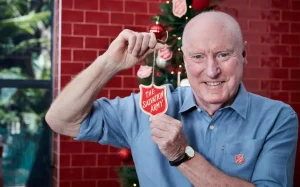 The Salvation Army is pleased to announce that "Christmas with the Salvos" will return to Channel 7 this December to usher in the holiday season for the third consecutive year.
The Salvation Army's Christmas television show, "Christmas with the Salvos," aims to spread happiness and hope to Australians across the nation this holiday season.
The 30-minute television special is hosted by TV legend and Salvos ambassador Ray Meagher (Home and Away), and it includes Salvos advocates The Wiggles and Weekend Sunrise weather presenter James Tobin, who teamed up to promote The Salvos and give back during the holiday season.
The programme showcases stories from The Salvos' inspiring work across the nation, including stories about their work to end homelessness, treat drug and alcohol addiction, aid in the recovery from natural disasters, and provide Christmas outreach through the distribution of toys, hampers, and community meals.
"Christmas with the Salvos" takes place in conjunction with The Salvation Army's Christmas Appeal, which aims to raise $23 million to help Australians who are struggling this Christmas.
Blue Wiggle The Wiggles' Simon Pryce, who appeared in the Salvos Christmas special from the previous year, commented,
The Salvos provides hundreds of thousands of gifts and toys, more than 64,000 hampers, and more than 130,000 meals to those in need over the holiday season. All of this would not be possible without the generosity of the Australian people.
On Saturday, December 10 at 12 p.m., Channel 7 and 7plus will broadcast "Christmas with the Salvos."
Christmas Eve (Saturday, December 24) at 12 p.m. and Christmas Day (Sunday, December 25) at 11.30 a.m. will also include encore showings. Starting on December 10th, 7Plus will also broadcast it.