After Ricky Norwood was spotted on set, EASTENDERS fans became convinced that the character Fat Boy was resurrected.
Before joining the main cast more than ten years ago, the soap opera actor first appeared in EastEnders: E20, a show spin-off.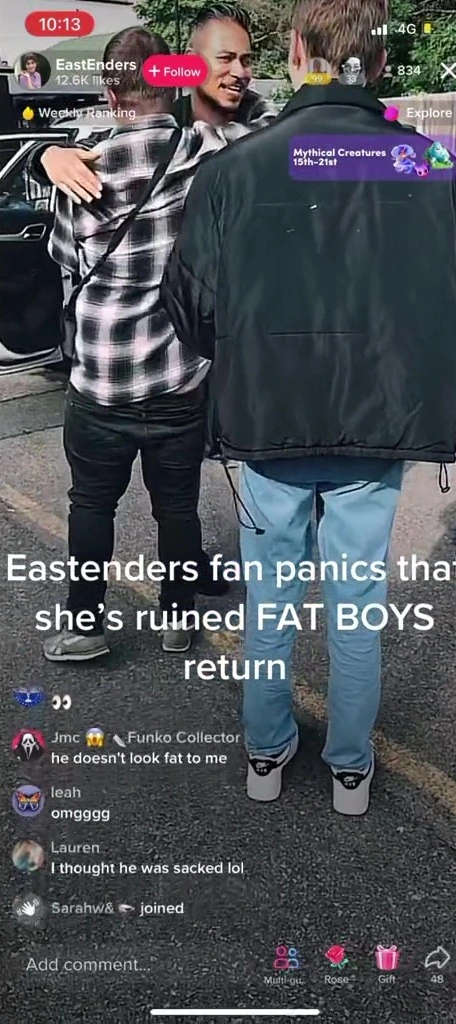 Ricky, an actor who is 35 years old, was a beloved member of the BBC One series until Ronnie Mitchell killed him off in a gory Christmas storyline in 2015.
Viewers observed that his body was never revealed after his death and that the revenge killing was never depicted in its entirety on television.
It made many devoted long-time viewers of the program think that Fat Boy would return at some point, and now they are certain that it is happening.
As the actor pulled up in his car for the filming of upcoming episodes of the show, a fan captured the moment on camera.
She quickly ended the Instagram video after panning the camera to reveal that she was at Elstree Studios.
Following Fat Boy as he entered the set while running an EastEnders fan page on social media, the user quickly realized she had ruined the surprise of his impending return.
The Instagram user was heard saying, "Fk, st, I shouldn't have done that," while pleading with her followers, "Don't you dare spoil that."
The rumor that Fat Boy would be returning to EastEnders has been refuted.
Soon after his death on the show, fans conjectured that because they had not seen his body, he would resurrect once more.
Every day, whether it's a message on Twitter or someone I run into on the street, "We want Fats back," Ricky informed Inside Soap. There are active petitions.
In a shocking plot development over Christmas 2015, Ricky's character suffered a horrifying demise when he was murdered by Ronnie Mitchell.
I'd never really had a Christmas storyline, and I liked that it was a secret that I knew would shock people, said Ricky when discussing his final scenes. But I had no idea it would elicit such a reaction.
It was incredible that a character who was only supposed to appear on EastEnders for three months could have such an impact on the country.
Additionally, Ricky stated that he would like his on-screen friendship with Dot Cotton to be a part of any potential comeback.
He continued, "His passing would really hurt her, but in terms of plot, it might be entertaining if she went on a clandestine rampage for Fats, messing up Vincent in some way."
I was a fan of Easties growing up, and the fans know anything can happen in the Easties, so once again, I'm open to opportunities," he said when asked about the prospect of a comeback.
I'm eagerly anticipating a few of the upcoming chapters. I look forward to those.