Following Dee-Dee Bailey's abrupt resignation from her LA job during tonight's episode, Coronation Street viewers are adamant that they have planned out the next move for the character.
Dee-Dee Bailey (played by Cannique Sterling-Brown) told her family that she no longer loved her opulent life in LA and that she wanted to move back home during tonight's episode of the ITV soap opera Coronation Street. Dee-Dee left her solicitor job in Los Angeles to begin a new life in Weatherfield with the help of her parents, Aggie Bailey (Lorna Laidlaw) and Ed Bailey (Trevor Michael Georges). But astute viewers have already started to speculate that she might soon collaborate with Adam Barlow (Samuel Robertson).
Last week, Dee-Dee unexpectedly returned to Weatherfield, surprising Aggie and Ed with her appearance after being absent for months.
She embraced her return and got to work, helping her brother James Bailey (Nathan Graham), who had recently suffered a serious heart attack, negotiate a contract with his former football team.
She was also approached to assist in the defense of Stu Carpenter's (Bill Fellows) murder case by Yasmeen Metcalfe (Shelley King) and Alya Nazir (Sair Khan).
As soon as she noticed the holes in the police investigation, Dee-Dee suggested they speak with Stu's daughter Bridget Woodrow (Beth Vyse) to review her mother's statement.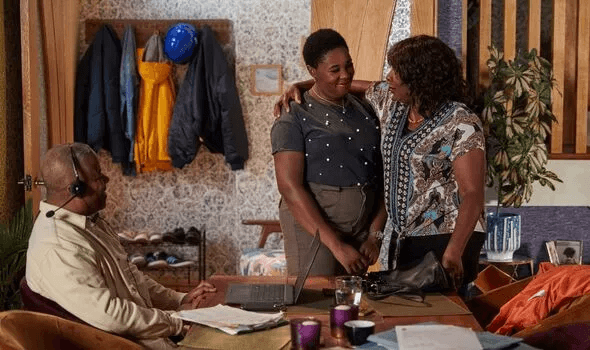 Fans started to speculate about what might be in store for the lawyer during tonight's episode, with many pointing out that Adam might be getting a new partner.
using Twitter to speculate about what will happen next DeeDee staying with Aggie and Ed, according to @itzzzo_, who added: "Give it a few months and DeeDee will have switched from LA to Coronation Street and working for Adam Barlow #Corrie."
She will soon be working with Adam on #Corrie, said @DionPetrie.
"I can't wait to find out the obvious crap secret that Dee Dee is hiding, which has caused her to leave sunny L.A #Corrie," William speculated.
shocked tweet from @Samanth22356123 "She's leaving crazy LA for batshit insanely depressing Weatherfield? #Corrie Crazy woman."
RT @Nut f1: "I can see Dee Dee joining Adam Barlow in the law firm as a new business partner. Future storyline on #Corrie #thinkingoutloud."
How long until spunky Adam and Dee Dee are working on that s**t hole lawyers office? #Corrie, she added. (sic)
Imran Habeeb (Charlie De Melo), Adam's partner, recently passed away after being fatally injured by his wife Toyah Battersby (Georgia Taylor).
Adam recently agreed to assist Alya with the investigation into Stu's murder, but the two have had difficulty moving forward because the evidence and witness accounts didn't add up.
Dee-Dee and Adam could work together to help Stu finally have his murder charge dropped.
Dee-Dee might be a positive influence in Weatherfield, but she might ruffle Adam's feathers if he thinks she's going to step on his toes.
In a recent interview with Digital Spy, Channique Sterling-Brown discussed the arrival of her character, Dee-Dee, and said: "Dee-Dee is going to bring a lot of fun and a lot of chaos – but in a good way, hopefully."
"Alya becomes a friend to her, which has been wonderful. They are investigating Stu's case to determine whether Dee-Dee can secure his acquittal.
"Because it's such a big storyline and because it's so compelling, I think that will be really exciting for viewers.
"There are two young women working as detectives. It's intriguing to see where that will lead because I think it's really brilliant."