Aaron Sandford, a teenager from Coronation Street, has been confiding in his girlfriend Summer Spellman about the suffering his controlling father subjected him to, but he soon finds himself feeling guilty over a house fire.
Aaron (James Craven) of Coronation Street recently revealed to Summer (Harriet Bibby) that his father frequently gets angry and drinks too much. Taking advantage of the knowledge, Summer agreed to keep his identity a secret in exchange for him keeping her diabulimia a secret. His long-kept secret, however, was recently made public after his father sued him on the grounds that he had allegedly stolen drugs and alcohol. Aaron, however, is expected to experience guilt in the coming events when his father suffers a terrible accident.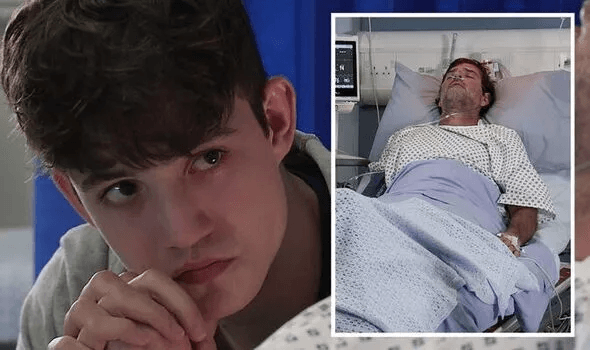 According to confirmed spoilers, Summer notices that Aaron is receiving a lot of texts from his irate father.
Summer begs Aaron not to go home when it's time for him to leave, so Billy Mayhew (Daniel Brocklebank) and Todd Grimshaw (Gareth Pierce) offer to check on him.
They report that he was angry and inebriated when they left, so they left him on his own.
Later, when the police arrive at the apartment, Aaron is shocked to learn that his father is currently in the hospital after a house fire.
After rushing to the hospital, Aaron is happy to see his father awake but devastated to hear Eric regretting his survival.
Aaron blames himself for not responding to his messages and leaving him unattended as well as for staying at home instead of going to be there for him.
Summer visits her boyfriend at the hospital and begs Aaron to let her help ease his burden.
Summer is crushed when a dismissive Aaron tells her that he needs to concentrate on his father.
Billy is entertaining Mike and Esther when Summer enters the apartment, and he tells them that they are hosting a charity clothes swap event and asks Summer to help.
Will Aaron ultimately hold Billy and Todd responsible for leaving his father alone despite their assurances that they would make sure he was safe?
Aaron might start to overlook his own health needs if he focuses on his father and his recovery.
Despite the ongoing abuse, is Aaron choosing a bad path for his father's health?
How long will Summer be able to function without Aaron by her side?
Aaron's father humiliated him last week when he showed up at the garage and confronted him regarding the missing marijuana and cash.
Billy tried to lecture Aaron about the drug incident, and Summer eventually snapped at him, saying she was tired of being controlled.
By sharing details of the incident with Paul Foreman (Peter Ash), Fiz Stape (Jennie McAlpine) made matters worse.
Aaron and Paul got into a heated argument after Paul grabbed the teenager's bruised arm. Aaron then punched Paul.
Summer was forced to witness this in horror as Paul threatened to report the assault to the police.
Aaron eventually came to the conclusion that he had no choice but to tell Billy about the abuse he had been experiencing at home.
Billy rushed off to intercept Paul before he could speak with the police because he immediately felt sympathy for Aaron.
Will Billy and Todd permit Aaron to get into a worse situation with his father?