Viewers of Emmerdale may soon have to say goodbye to two characters as part of a bitter revenge scheme against a third villager.
According to hints found in Emmerdale spoilers, Chloe Harris (Jessie Elland) will soon exact revenge on Mack Boyd (Lawrence Robb) and Charity Dingle (Emma Atkins).
Mack is unaware that Chloe and her son Reuben are hatching a plan to permanently leave the Yorkshire Dales. Mack tells Chloe that he wants to get back together with his ex-wife Charity and end their relationship in dramatic scenes that haven't yet aired.
When he breaks the news to Chloe that their relationship is over, she is shocked and yet treats him like a piece of dirt. But after being rejected, she quickly runs to her sister Amy Wyatt (Natalie Ann Jamieson) and begins crying in her arms.
Later, Chloe becomes red-faced as she witnesses Mack and Charity sharing a kiss. In rage, she even rushes over and gives Charity a hard slap across the face.
While Mack realizes Chloe might not have handled the breakup as well as he first believed, Amy pulls her sister away. Charity is hoping that things will settle down soon because she wants to continue living a peaceful life with Mack.
But Chloe, driven by resentment, confides in Amy about her plan of retaliation.
She informs Amy that she intends to flee to France with Reuben and prevent Mack from ever seeing the child again. Mack and Charity are blissfully unaware that Chloe has purchased her tickets to France.
But when Mack unintentionally learns that Sarah Sugden (Katie Hill) has seen Reuben's passport and packed bags, the secret is revealed.
Suddenly realizing that Chloe is going to run away with the baby, they dash outside.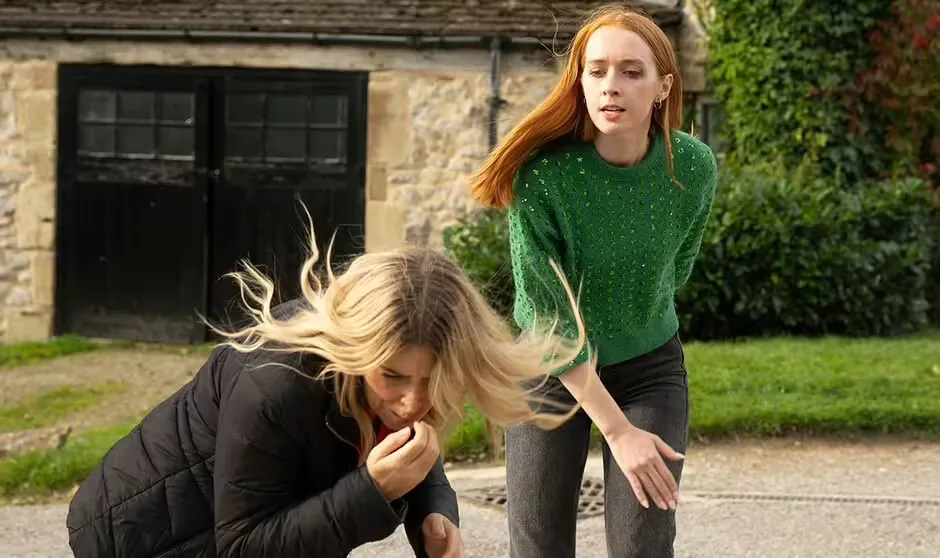 Before Chloe and Reuben leave the village, will Mack be able to stop her?
Will he find Chloe in France or alert the authorities to the situation if he doesn't get to her in time?
Should Reuben be removed from Mack's life permanently, he will undoubtedly experience heartbreak. Will he ultimately leave Charity in order to retrieve the child?