Sam Frost, a former Home and Away star, has gone through many changes this year.
She originally admitted to dating Australian former Survivor contestant Jordie Hansen.
Then, after six months of dating, she announced their engagement.
Shortly after revealing she and Hansen were expecting their first child, Frost revealed the baby's gender—a boy—in an emotional Instagram post about the highs and lows of pregnancy.
Since then, the 33-year-old has disclosed another important life change on Instagram.
"Jord & I have made the journey to Noosa, Qld," Frost wrote alongside a picture of herself standing by the beach and showcasing her expanding baby belly on Instagram.
She said, "We thought it would be a beautiful place to raise our young boy.
However, we'll be travelling back and forth between Sydney, Melbourne, and Adelaide while also making occasional stops to see friends and family and work.
Frost tagged Hansen in the post and added the hashtag #home.
Friends and admirers of Frost visited her to offer their congratulations and best wishes for her new home.
Three red love heart emojis were shared by former Channel 7 presenter Sally Obermeder.
"Good day, sun!"
Wonderful, congratulations," Erin Holland commented.
Sun, hello!" Bugs has a lot of luck! "
Gorgeous – Noosa suits you, said another.
Fantastic decision – Qld is truly stunning, a third person said.
Frost hasn't shied away from talking openly about both the highs and lows of being pregnant.
Sam's Preggo Diary Week 17 is a video that she started in September on her social media accounts.
Yesterday, I vomited so badly that I even wet my pants.
Additionally, that wasn't the first time.
"Raising our son"
"I sat on the bathroom floor crying… all dirty in my own spit and urine," she added, adding an emoji of a crying face.
Then, acting as though it were his fault, I raged at my partner.
In exchange, he handed me Red Rooster, hugged me, and told me I was parenting our son in an AMAZING way.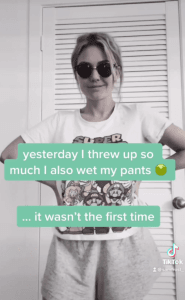 Frost recently unveiled a lovely video announcing the release of the most recent episode of her podcast, Jordie and Sam's Rural Road Trip.
It shows them enjoying a butterfly cage, playing with their dog on the beach, eating chips, and watching kangaroos to the tune of the Beach Boys song Fun Fun Fun.
I appreciate the programme — and your increasing bulge, one listener said.
In an Instagram post on September 11, Frost announced that she and Hansen were expecting their first child.
A photo of the expectant woman and Hansen holding an ultrasound image was uploaded.
Everyone should act shocked when the upcoming small human unavoidably inherits his parents' unusual sense of humour, it read in the caption.
"By not taking ourselves or life too seriously, we strive to instil in our young child the same values we do.
She went on to discuss the importance of being one's authentic self, how to always find humour in the simple things, and how kindness, love, and empathy are superpowers.
We appreciate all of our wonderful friends and family who supported us during this trying time; you are all excellent secret keepers.