Bree Cameron (played by Juliet Godwin) continues to play being a happy couple in public with her abusive husband, Jacob (guest star Alex Williams)
But Bree's friend, Remi Carter (Adam Rowland), knows the terrible truth…
However, hope is on the horizon with Jacob soon to depart Summer Bay again for work.
Jacob is on his best behaviour in public.
But behind closed doors, his violent and controlling side resurfaces when he pushes Bree to get physically intimate with him…
However, Jacob is in for a surprise when this time Bree stands her ground and warns him that the violence must STOP.
She will not carry on living in fear of what he will do next…
Meanwhile, Remi continues to worry about Bree's safety.
At Salt, rocker Remi confides in restaurant/bar manager, Mackenzie Booth (Emily Weir) that he is in love with a married woman.
When Mackenzie later sees Remi watching Bree, will she put two and two together and guess what's going on?
Marilyn Chambers (Emily Symons) is back in Summer Bay.
She is ready to give a statement to the Police and tell the terrible truth about her long-lost daughter, Heather Fraser.
But as Marilyn prepares to tell copper Rose Delaney (Kirsty Marillier) everything, she worries about condemning Heather after playing her own part in Heather's downfall.
Will Marilyn have second thoughts about telling the truth?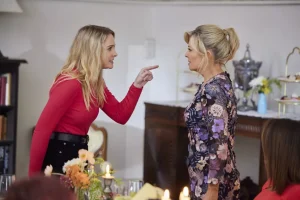 Justin Morgan (James Stewart) is frustrated that pregnant Ziggy Astoni (Sophie Dillman) isn't up to the task of being the new garage manager.
Justin's partner, Leah Patterson (Ada Nicodemou), warns him to tread carefully.
You can't discriminate against a pregnant employee.
Unfortunately, Justin is about to cross that line…
Ziggy continues to keep her hospital scare a secret from Justin, as she refuses to use her pregnancy as an excuse for a bad performance on the job.
Unaware of the truth, Justin announces that he is reducing Ziggy's working hours to help her cope.
Let's just say, she is NOT happy to hear this… !