On the television show Home and Away, Cash Newman (played by Nicholas Cartwright) is astounded to see his sister Felicity (Jacqui Purvis) attempting to flee from taking a random roadside alcohol test. (1:45pm – see our TV Guide for listings)
With the help of her friend Eden Fowler (Stephanie Panozzo), Felicity, who has been driving while under the influence, tries to escape.
The fugitives are quickly caught by Cash and his partner in the police, Rose Delaney (Kirsty Marillier), though!
Felicity wants to appear innocent, and she gets Eden to tell a falsehood on her behalf.
However, she feels humiliated and upset after failing an alcohol breath test.
Cash expresses concern at Felicity's careless actions and informs her that her driving privileges will be banned for three months.
Will copper Cash take additional steps to throw the frighteners on Felicity because he wants her to straighten up her act?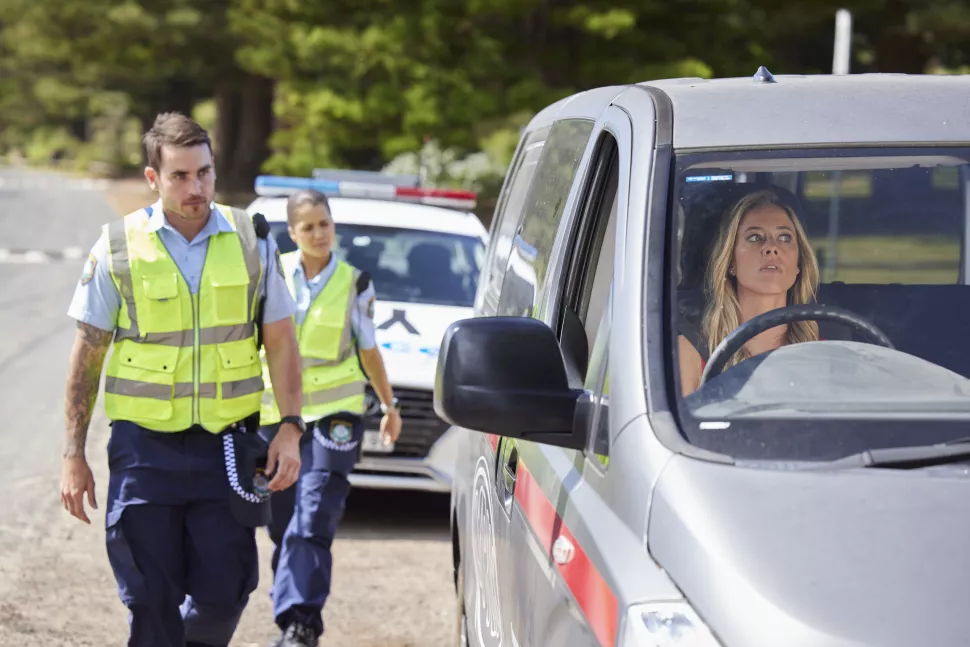 Running the Board Shop, Mali Hudson (Kyle Shilling) is getting into a rhythm.
And that involves instructing surfers on the sand.
When Mali's new girlfriend Rose shows up, things become flirtatious and enjoyable.
Rose has never taken surfing lessons, as Mali learns.
She must be crazy to live in a place like Summer Bay and not want to surf.
Mali makes the decision to act independently and sets up a private surf lesson for Rose.
However, Mali is momentarily sidetracked when a MYSTERY text message from someone makes him uneasy.
James Stewart's character, Justin Morgan, is still attempting to learn what is going on with his adolescent daughter, Ava Gilbert. (Annabel Wolfe).
Since she unexpectedly came to visit from the city, it seems like she can hardly stand to be near him.
Ava is only interested in Theo Poulos. (Matt Evans).
Ava has a teenage crush, but Theo is the only one who doesn't seem to be aware of it.
Kirby Aramoana, Theo's girlfriend (played by Angelina Thomson), tries to forewarn him that Ava is obviously attracted to him.
Theo, though, isn't persuaded and still thinks Ava is returning to the Bay to settle things with her father.
But when Ava SNAPS at her to keep her ideas to herself, Kirby's suspicions are quickly confirmed.