On this week's episode of Home and Away, Tane (Ethan Browne) plots the ideal setting to propose to Felicity (Jacqui Purvis) and has a great surprise up his sleeve.
Felicity, however, is startled and initially remains silent. Even after answering positively, she claims that she only did it because Cash (Nicholas Cartwright) was watching.
Later, in Salt, Mackenzie (Emily Weir) notices that Felicity isn't acting right and takes her to the storeroom, where she sobs uncontrollably. Has Felicity erred by approving Tane's marriage?
Heather (Sofia Nolan) has a dark agenda, but Marilyn (Emily Symons) is pleased to see her back in the Bay.
She invites everyone to a lovely home in the countryside for brunch, saying she wants to win back Marilyn's friends.
However, things take a turn for the worst when Heather knocks out Marilyn and ties her to a chair before waiting for her pals and offering them punchy drinks.
Here is what Home and Away has planned for the week starting on Monday, November 14.
Felicity, does she regret saying yes to Tane's marriage proposal?
Tane reveals to Felicity that he has a surprise in store for her, and she is touched to find that he has organised a champagne picnic near the lighthouse with a view of the ocean. She is even more shocked when she finds Lyrik performing an acoustic song as she approaches them. She turns around to discover Cash and Nikau both there, with Nikau taking notes.
Tane is bowed down when she turns around and sees him. She hesitates for a moment and then replies yes, taking in everyone surrounding her and waiting for her response. Back in Salt, the champagne is flowing, and inquiries about weddings, honeymoons, and having children begin to come in. Mackenie realises that Felicity is having trouble swallowing her drink. Felicity sobs in the storeroom, expressing her complete overwhelm and pressure to accept the proposal. Does she regret accepting Tane's proposal of marriage?
Marilyn accuses Leah of chasing Heather away from the Bay.
When Leah and Rose went to visit Heather at the campground but found out she had left, they were compelled to tell Marilyn that Heather had left the Bay. Marilyn loses her cool when she finds out that Leah and Heather recently got into a fight.
How could Leah abandon Heather and betray her trust? As Marilyn deals with the devastating news that her daughter has passed away, she looks for someone to hold responsible and blames Leah.
The situation is made worse when Marilyn receives a text from Heather confirming that she will never return to the Bay. Leah is distraught when Marilyn accuses her of squandering her second chance with her daughter out of rage.
Does Cash share Eden's emotions after she expresses them?
Eden slips and hurts her ankle as she makes her way back down from the lighthouse after Tane proposes to Felicity.
She doesn't want to be around either of Cash or Remi right now, so it annoys her when they hurry to help her. But whether you like it or not, she is hurt and can't descend the remaining distance by herself.
Eden begs Bree for an overnight stay so she can get away from Remi and Cash in the hospital because they won't leave her alone there. She is forced to return home because Bree won't allow her stay in the hospital despite having a minor injury. She ultimately admits her thoughts to Cash after realising that the time has come to put her heart on the line. Does he share Cash's surprise, or is this the end for them?
Jacob, Bree's husband, shows up unexpectedly and is not pleased.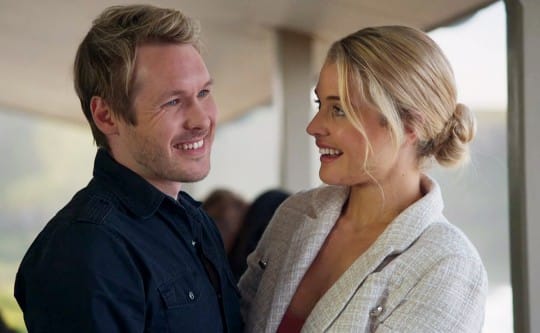 In Salt, Bree and Remi are enjoying breakfast together when a strange voice remarks that they sound cosy. Bree is delighted to see her absent husband, Jacob, while Remi is perplexed. Although she admits she wasn't expecting him back just soon, Jacob responds that he wanted to surprise her.
Remi grants them privacy, but Jacob makes it apparent he isn't content as the couple makes their way to the shore. How frequently does she eat breakfast with odd guys? Jacob isn't persuaded by Bree's claim that he's only a friend. When Bree receives a text from Remi asking whether she is OK, Jacob becomes irate once more back at the motel. She is pinned to her sides as he rants at her because he believes she is cheating. Is Bree at risk?
Ziggy's abrupt cancellation of her sonogram alarms Dean.
For Ziggy's 12-week ultrasound, Dean is eager. After all, this is the time when they can start notifying people they are having a baby! As the baby's aunt, Mackenzie is also thrilled and asks Dean to let her know as soon as there is an update on Baby Thompson's condition.
Dean is astonished, though, to learn that Ziggy abruptly and without warning cancelled the appointment. He initially hears it from the hospital and quickly starts to wonder if something is wrong. When he attempts to call Ziggy, she doesn't pick up. She finally arrives, and she exudes serenity. She requests that they go for a stroll so that she can explain.
Lyrik makes the decision to advance their brand-new song.
Despite going through some personal drama—Remi having emotions for Bree, Eden becoming connected with Cash, and Theo figuring out his new connection with Kirby—Lyrik has improved significantly since Bob left.
Following their performance during Tane's proposal to Felicity, Justin makes the decision to create a video exploiting the romantic scene to showcase their new material. Theo bemoans the subpar sound quality while Kirby praises the way the new song is presented in the video. Theo expands on Justin's suggestion that the band properly record some of their songs by suggesting that they create a music video. Justin adores it; this will definitely make Lyrik famous!
Marilyn is knocked out and then tied to a chair by Heather.
Marilyn is delighted when Heather texts her to announce her decision to move back to the Bay. She admits that she broke into Leah's home and declares her desire to atone for her actions. She takes Marilyn to a lovely estate in the countryside and claims it was her boarding school while driving there.
When Heather says she wants to invite her friends back for brunch, Marilyn is impressed. Roo, Alf, and Leah receive email invitations, which causes them to wonder, "What's the occasion?" Heather, meanwhile, has different ideas for Marilyn. She quickly uses a candle holder to knock her biological mother unconscious while creating a distraction. Marilyn is restrained and seeing a CCTV feed of every room in the building when she awakens. Heather gags Marilyn and walks away after saying that she only wants to chat with Marilyn's pals.
Alf, Roo, and Leah are drawn to an unknown location and poisoned.
In order to attend the brunch that has been invited, Marilyn's pals drive out to a remote location. They are taken aback when Heather welcomes them as they enter.
When they inquire about Marilyn, Heather gives an explanation and directs them to the eating area. Heather pours champagne for everyone, and they toast her while Marilyn stands in the upstairs room, gagged and bound, and watches in fear. Marilyn is compelled to watch as Heather starts tying her friends to their seats as they all fall asleep.