Fans of EMMERDALE have expressed concern for Leyla Harding as she returned to the community following treatment for her cocaine addiction.
As Roxy Shahidi's character Leyla Harding sought treatment for her drug addiction, she took some time off from Emmerdale. Viewers expressed concern that her husband Liam Cavanagh (Johnny McPherson), who was anxious about her coming home, might push Leyla back into addiction and permanently lose her if he avoided speaking to her.
Liam hurried off to the allotment to get away from it all as Leyla unpacked and attempted to settle back in at home.
The doctor is obviously having a hard time with his wife coming home, and he knows she will blame him for her addiction.
Liam delayed confronting Leyla about their problems until it was too late because he didn't want to talk about them.
Leyla questioned why he had been avoiding her after realizing he had lied to her about needing to get milk.
She told him, "Don't Liam," as he kept lying. If you had been at home to support me, you would have known that Jacob had come over earlier.
Leyla retaliated: "You disappear for ages, and then you come home and lie to me," to which he replied, "I'm trying. How does that benefit us?
But the physician objected, saying, "How is that good for you, you mean? because at the moment, that is all that seems to matter.
His wife said, "We agreed to be honest with each other," but he snapped, "Yeah because you always do what you say, don't you? Never tell a lie.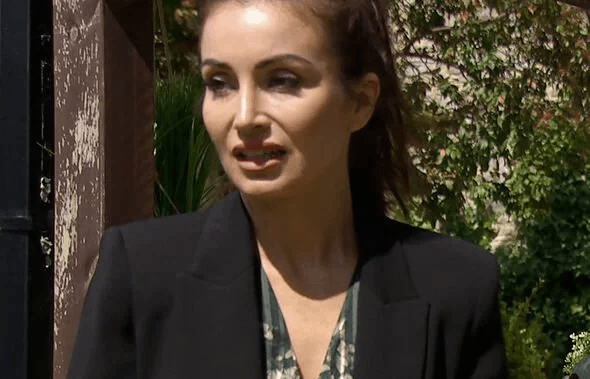 Leyla acknowledged her shortcomings but was working to overcome her addiction and be more honest with her husband.
She pleaded with Liam, "Please don't do that, don't shut down, it's not healthy."
Did you learn that in therapy, Liam shot back. Leyla was unfazed, though, and said, "Yeah, I did, and I think you should try it."
So I can be as self-centered as you? the doctor shot back. Owner of Take A Vow is left upset.
Leyla decided it was time to leave when it became apparent Liam couldn't handle being around his wife.
She prepared a bag and informed her husband that she would be gone for a while in order to concentrate on her recovery.
With viewers certain that Liam would encourage Leyla to relapse or even divorce him, fans quickly turned against him.
"Way to go Liam, that attitude is definitely going to keep Leyla on the straight and narrow with that poor support #Emmerdale," wrote user TVJuice on Twitter in an attempt to predict what would occur.
"#Emmerdale looks to me that Liams going to continue to bury his head in the sand & lose Layla through this behavior," Bobby Dazzler said on Twitter.
Struggling to feel any pity for Liam, his behavior during the couple's therapy was disgusting, Ryan Glendenning tweeted.
"He's in complete denial, and since Leyla has emerged stronger from the other side, Liam runs the risk of pushing Leyla back. #Emmerdale."
"Liam needs to stop lying and support Leyla, he's so selfish," yelled Teena Massam.
Emmerdale." "With Liam being so negative around Leyla she will be back on the cocaine in no time," Kerry wrote on Twitter.
JilyGee continued, "This Leyla and Liam relationship is really toxic #emmerdale."