In upcoming episodes of Coronation Street, viewers will learn who the murderer is and see how the residents handle the aftermath of a house fire. Before this week's episodes air, here are the top five spoilers.
In this week's episode of Coronation Street, Stu Carpenter is relieved to hear from Dee-Dee Bailey that she has the DNA test results. But why is the news shocking Alya Nazir so much? Meanwhile, Tracy Barlow tries to end the relationship between Ken Barlow and Wendy Papadopoulos, but her strategy might actually bring her father and Wendy closer together. David Platt believes Max Turner is up to no good elsewhere, but will he be able to clear his name?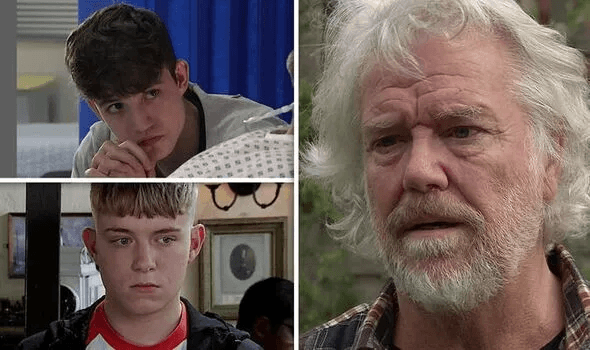 David Platt heartbroken as police make worrying Max discovery
When Maria Connor (Samia Longchambon), a victim of online harassment, is revealed to be Max Turner (Paddy Bever), David Platt (Jack P. Shepherd) finds it difficult to believe him.
After conducting an interview for a class project, Max befriends an Iraqi refugee, but David starts to wonder if Max is just looking for payback after Daryan gets accepted to Weatherfield High.
David demands Max turn over his laptop but he refuses when Maria notices negative comments under an online article about her rehoming of refugees.
He claims to be unrelated, but David calls the police anyway because he doesn't feel he can trust the young man.
Max claims to be innocent, but the police call David and say they are going to come talk to Max.
Horror as Dee-Dee Bailey confirms true killer in Stu murder case
In upcoming scenes, Dee-Dee Bailey (Channique Sterling-Brown) demands a DNA test in order to finally learn the truth about Stu Carpenter's (Bill Fellows) case.
Brunch is enjoyed by Eliza and Bridget Woodrow (Beth Vyse) along with Stu and Yasmeen Nazir (Shelley King), but Bridget soon finds it to be too much.
Stu follows her as she flees to the garden, but when she makes a confession regarding his prison term, he is shocked.
Dee-Dee learns the DNA test results later in the week, but Alya Nazir (Sair Khan) is taken aback by the information.
Sally Metcalfe devastated as she discovers Tim and Aggie's secret
Aggie Bailey (Lorna Laidlaw) and Tim Metcalfe (Joe Duttine) continue to become closer as the former offers the latter some practical family counsel.
Later, when Sally Metcalfe (Sally Dynevor) arranges a night out at the Bistro as a follow-up to her anniversary gift, which Aggie assisted Tim in picking out, he begins to feel like a fraud.
When Tim gets home, he sees Sally working out to disco aerobics and decides to join her. Before having sex for the first time in months, the couple laughs together.
Once there, Ed Bailey (Trevor Michael Georges) invites them to sit down at their table. However, Aggie finds the situation awkward when Sally praises the necklace that Tim secretly bought for her.
He sends Aggie a text after realizing she is perplexed by his and Sally's flirtatious behavior, but he is mortified to discover he actually sent it to Sally.
Ken Barlow furious as Tracy sabotages new romance
This week, Wendy Papadopoulos and Ken Barlow (Will Roache and Roberta Kerr) continue their budding romance. However, Tracy Barlow (Kate Ford) soon tries to put an end to it.
Because of their 1989 affair, which caused Tracy's mother Deirdre Barlow (Anne Kirkbride) to divorce Ken, Tracy wants her father to have no contact with Wendy.
The following week, Mary Taylor (Patti Clare) is enraged when Ken ends their conversation in the middle of it because he has a text from Wendy. When Tracy overhears her telling Brian Packham (Peter Gunn) about the encounter, she storms off to the book launch in search of Ken and Wendy.
When Ken and Wendy are together, Daniel Osbourne (Rob Mallard) and Daisy Midgeley (Charlotte Jordan) are overjoyed, but Tracy clearly has the opposite reaction and stirs up trouble.
To her father's surprise, she later apologizes to Ken and invites Wendy over for lunch; however, Tracy's true motivations become clear when she serves stuffed marrow, Deirdre's specialty.
Aaron devastated as father almost perishes in house fire
When Aaron Sandford (James Craven) receives angry texts from his father, Summer Spellman (Harriet Bibby) begs him not to go home.
Summer is more concerned than ever when Todd Grimshaw (Gareth Pierce) and Billy Mayhew (Daniel Brocklebank) check in on him and report that he was angry and drunk.
Later, the police show up at the apartment and inform Aaron that his father is currently receiving medical attention after being hurt in a fire.
When his father tells his worried son that he wishes he hadn't survived during a hospital visit, the son is relieved but also devastated.
The teenager is devastated when Aaron places the blame on himself and rejects Summer's request to share his burden.