Next week on UK television, Kirby Aramoana from Home and Away unintentionally causes her boyfriend Theo Poulos to experience a wedding crisis.
When Kirby casually remarks that she hopes to be married someday, Theo is thrown for a loop.
In upcoming episodes of Channel 5, Kirby and Theo go to the same club to celebrate Tane Parata and Felicity Newman's simultaneous hen and stag parties.
When Nikau, Tane's nephew, delivers a speech as the best man, Kirby is clearly moved.
Kirby cracks jokes about how emotional she is when she starts crying, joking that she'll be a wreck at her own wedding.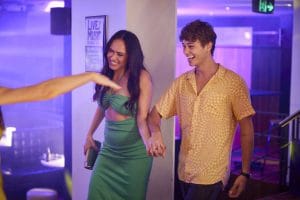 Theo, who had never imagined himself getting married, is alarmed by this.
Theo surprises his aunt Leah Patterson the next day by posing odd queries about marriage.
Theo is intrigued by how Leah and Justin Morgan, who are still together despite not being married, have maintained their strength and unity.
The chat gives Leah the false impression, leading her to believe that Theo is about to pop the question to Kirby.
Leah and Justin attempt to dissuade Theo from this idea, but he clarifies that Kirby seems to want marriage while he doesn't.
Theo struggles with how to explain to Kirby that the idea of marriage is simply not a factor in his life.
Theo later tells Kirby that he isn't interested in getting married in an open and sincere manner.
Kirby argues that it's way too early in their relationship anyway since she is shocked that Theo has taken her casual remark so seriously.
Theo elaborates on his justification, saying that part of what makes him opposed to marriage is having witnessed his parents' discontent when he was younger.
As Theo describes his difficult upbringing, including how his aggressive father once physically abused him, Kirby is taken aback.
Will this strengthen their relationship?