On this week's episode of Home and Away, Cash (Nicholas Cartwright) struggles with his memory lapses and frantically searches for information about what took place on the day of the shooting. Felicity (Jacqui Purvis), who finds it difficult to witness her brother's desperation, tells Rose (Kirsty Marillier) that she needs to break some rules in order to provide Cash with what he needs.
Meanwhile, Nikau (Kawakawa Fox-Reo) decides that in order to mend his relationship with Bella, he must take drastic measures because he is tired of seeing everyone around him in love (Courtney Miller). Dean (Patrick O'Connor) intervenes as he gets ready to board a plane for New York. Will Nikau listen to him when he says he doesn't want Bella to be hurt again?
Here is the schedule for the week starting on Monday, September 26.
As Cash struggles to cope, he becomes erratic.
As his doctor, Bree, orders him to stay in his hospital bed, Cash is restless. Cash becomes desperate to learn more about the shooting and makes an attempt to leave the hospital in order to find Rose. Cash ignores Bree's warning that he won't make it to the door and struggles to stand before falling. Rose, who is troubled with guilt, observes in silence from behind closed doors. Bree is unsure of Cash's current situation because of his unstable behavior and mental state.
Will Tane lose the gym because of the bikie label?
Residents in the Bay are questioning Tane in the wake of the biker gang bust. He is compelled to remain silent, though, as Rose has warned that doing so will ensure his safety. Tane realizes that Dean, a devoted friend of Ari, is also a friend of his when Dean unconditionally offers him support. John cautions Tane that the committee is thinking about not renewing the gym's lease as Tane is being questioned by the surf club.
Nikau prepares to visit Bella in New York
As the biker gang closed in on the Parata family, Nikau broke up with Bella for her safety. Now that the police sting is over and the majority of the gang members are in jail, he realizes that he wants to win Bella back. When Dean sees him pleading for a ride to the airport, he questions his motive for seeing Bella. She has stopped returning his calls, so Nikau admits he wants to make a big gesture to save their relationship. Will Dean support him?
Dean suspects that Ziggy has feelings for Remi
Following the failure of her van deal with Remi, which led to Dean finding them and discovering that she lied to him, Ziggy is moving very cautiously. Mackenzie asserts that she must mediate the conflict, but Ziggy flees the area where she had been sitting while trying to make amends with Remi when Dean enters Salt later. Does she have feelings for Remi, Dean asks her as he suggests they go for a walk?
Felicity demands that Rose breaks the rules to help Cash
Since discovering he was the cause of a man's death upon awakening in a hospital, Cash has been in excruciating pain. Rose has been battling her guilt, but Xander reassures her that Cash is safe. Felicity, however, has other plans. She storms into Rose's apartment after an upsetting hospital visit and demands that she give details about the shooting. Rose claims that the matter is still being looked into, but Felicity claims that Cash needs answers, so whatever it takes, including breaking protocol, is what it takes.
Will Theo and Kirby get caught by Justin and Leah?
Theo and Kirby are savoring their developing romance, despite the fact that they have to conceal it because their union is against the rules of the band. Theo invites his girlfriend over for an overnight session as soon as he realizes he has the entire house to himself.
However, they hear Leah and Justin moving around in the kitchen in the morning. Theo offers to make Justin breakfast in order to divert Justin while Kirby quickly hides in the restroom. Theo is horrified when Justin says he'll take a shower first. Is Kirby about to be approached by him?
Roo gets her mojo back as tutoring clients come in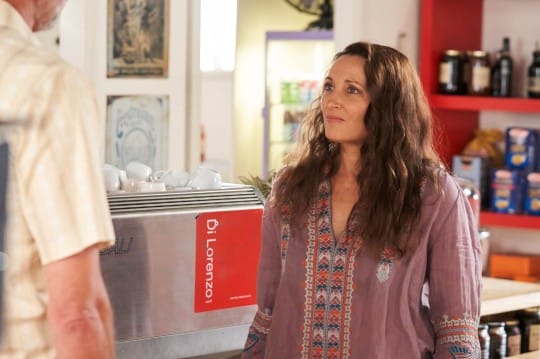 Roo has made the decision to return to the teaching profession by taking on private tutoring clients. She is ecstatic to work with her first client, a mature woman juggling children and her studies. She is then shocked to hear from a different prospective client, a young woman named Heather who is submitting an application to law school. Roo starts to feel like her life is getting back on track and that she is once more making a difference as she receives encouraging feedback from both women.
Heather has an unusual interest in Marilyn
Heather, a new tutoring client of Roo's, has been getting along well with her and recently confided in her about her desire to attend law school in order to assist mothers who have lost custody of their children.
Marilyn is unnerved by Heather's persistent staring at her from the other side of the diner, but she is unaware that Heather is photographing Marilyn as she works as she leaves her session with Roo. Why is Heather drawn to Marilyn so much?