As a result of Cash Newman (Nicholas Cartwright) being shot during a police sting that went horribly wrong, Rose Delaney (Kirsty Marillier) of Home and Away has been worrying uncontrollably about him.
As viewers are aware, the cop was in charge of a clandestine operation to put the bikies—especially Tex Wheeler (Lucas Linehan)—in prison, where they belong.
After Jasmine (Sam Frost) left, Cash joined the operation to keep himself busy. However, when he went with Rose to the bikie headquarters to make arrests, tragedy struck when Marty, the second-in-command, shot Cash.
Rose was horrified by what happened and felt guilty afterwards, thinking that she was at fault.
Actress Kirsty Marillier told Metro.co.uk about the events leading up to and including Cash's potentially fatal injury: "I think Rose is really in the wars at the moment."
Many of her feelings, including ones she may have previously repressed like shame, guilt, and failure, start to manifest in real life for her.
"Anything that goes against her sense of responsibility as a police officer." She feels that both she and Cash have failed in their roles as police officers. It's difficult because I want the audience to understand that she's not really to blame.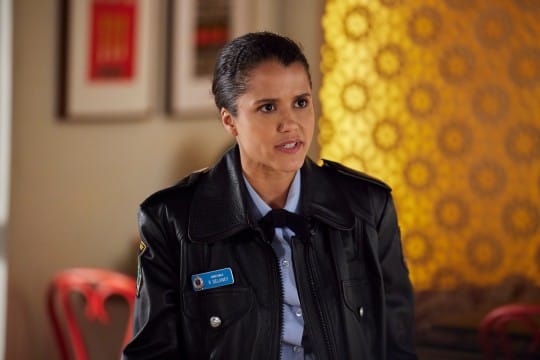 In order for this one major event to happen, a number of other events must have taken place. Rose does draw an emotional connection—rather than a logical one—between herself and Cash being killed.
After a long period of being close to death, Cash eventually came to, much to Rose's relief.
However, the policeman found it difficult to accept that Marty had passed away during the gunfight, which ultimately puts pressure on Rose to try and assist him in getting better given that she was present when the shooting occurred.
In upcoming scenes, Rose will defy protocol on the advice of Felicity (Jacqui Purvis) to calm Cash's fears by giving him the incident's police report so he can determine what actually occurred.
Kirsty remarked, "I think Cash's response is a little convoluted and puzzling. It's not as cut and dry as Rose might have thought. Although Rose is relieved—"Thank God he acted in self defense"—Cash finds it extremely difficult to comprehend everything that has happened.
As viewers are aware, Rose has been harboring feelings for Cash. However, Kirsty believes that in the future, her character will be able to "put to bed" those feelings in order to move on.
She explained to us that "over time [Cash and Rose] really just created a strong foundation for a friendship." They respect each other so much as police officers, and she has a special regard for him because he is a senior constable.
They are aware of what it takes to be a police officer in the Bay. I can't talk to anyone else in the Bay about my daily life. They both seem to share a mutual respect for one another, a sense of duty and camaraderie, and friendship.
Right now, I believe Rose has dealt with and put to rest her feelings for him. He is someone she respects and loves very much, in her opinion.
You can be sure that things won't be slowing down any time soon because Kirsty has hinted that there will be more "big drama" to come. Home and Away has been on fire lately, with one compelling storyline after another keeping viewers hooked on a regular basis.
Additionally, Rose may also experience some romance in the future!
As a cop, Rose constantly enters into everyone's plot, according to Kirsty. There will be some major drama soon. She has a little inner detective, so I believe she'll always be looking into something. You can count on her to act quickly.
Hopefully, as time passes, the guilt associated with Cash's shooting begins to lessen, and you can observe her and him going through a period of healing as their relationship also begins to mend.
We'll watch as Rose, hopefully, stops berating herself over Tex, turns a new leaf, becomes single and proud, and possibly resumes dating. Keep an eye on that area because she has a lot of options in front of her. She is available and single. '