Viewers of Coronation Street could see Sally Metcalfe inconsolable after learning that her husband Tim Metcalfe and Aggie Bailey were close.
Fans of Coronation Street noticed early this year that Tim Metcalfe (Joe Duttine) and Aggie Bailey (Lorna Laidlaw) appeared to be developing a romantic relationship. The two start to keep secrets from their partners in upcoming episodes that will air the following week, reigniting rumors. However, everything could blow up if Tim unintentionally texts Aggie instead of his wife Sally Metcalfe (Sally Dynevor).
After undergoing a triple heart bypass surgery earlier this year that left him with a fear of dying, viewers of the ITV soap opera have watched as Tim has developed impotence over the past few months.
This severely strained his marriage to his wife Sally, so he sought advice from a friend, Aggie, who advised him to talk to his wife about his worries and gave him a book on coping with death.
Sally was happy to see him finally open up to her, even though he neglected to mention that Aggie was primarily to blame for his problems.
People began to speculate that an affair was about to occur as Tim and Aggie grew closer behind Sally's back. This may be the case once more as more secrets begin to emerge in upcoming episodes.
The public will witness Aggie becoming irritated with her husband Ed Bailey (Trevor Michael Georges) the following week after he makes their daughter Dee-Dee Bailey (Channique Sterling-Brown) feel unwelcome by inquiring as to whether or not she intends to stay.
As Dee Dee storms out, Aggie turns to her good friend Tim for advice on how to proceed after sharing her worries about her family life with him.
Later, as her daughter calls her boss to resign, viewers will see her admit she has been lonely in LA and doesn't have any plans to go back.
Aggie texts Tim to express her satisfaction with her daughter's choice to stay and to thank him for their earlier conversation.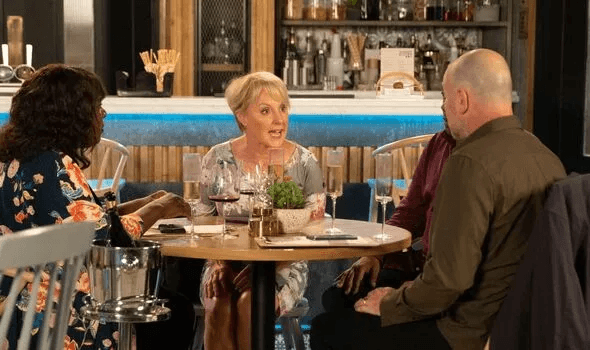 Tim is simultaneously feeling like a fraud as Sally plans a night out at the bistro to express her gratitude for the anniversary gift that, unbeknownst to her, Aggie chose.
Aggie received a necklace of her own as a thank-you for helping Sally with her gift, but she deceived her husband into believing it was an old necklace.
Tim decides to jokingly join in with his wife's disco aerobics when he gets home and they both laugh before sharing a passionate kiss.
Following their first sexual encounter in months, the two are overjoyed and decide to go to the Bistro, where they run into Ed and Aggie.
Sally comments on Aggie's necklace while Ed politely asks the couple to share their table, not realizing that Aggie's husband gave it to her.
As Aggie watches Sally and Tim flirt with one another, she is perplexed. Tim recognizes her perplexity and decides to text Aggie, but unbeknownst to him, he accidentally texts Sally.
According to a theory put forth by yzee.uk, Sally wants to know why he is messaging Aggie about their relationship.
Tim may be about to admit how close he and Aggie really are as the secrets that have been building up over the past few weeks may finally come to light as Tim searches for answers.
Sally storms out, humiliated and devastated, furious that he's been consulting another woman for advice, especially regarding their intimacy.
What will their shared secrets and close friendship mean for Tim and Sally's future, and will Aggie still be a part of his life after his wife's outburst?